Easton Kiwanis 100+ years
As of July 18, 2018 the Kiwanis Club of Easton has provided 100+ years-of-service to Easton and its surrounding area. For our 100th anniversary we, with financial help from many local businesses, provided a new playground and community garden center at the Boys & Girls Club of Easton, 210 Jones Houston Way, Easton, PA.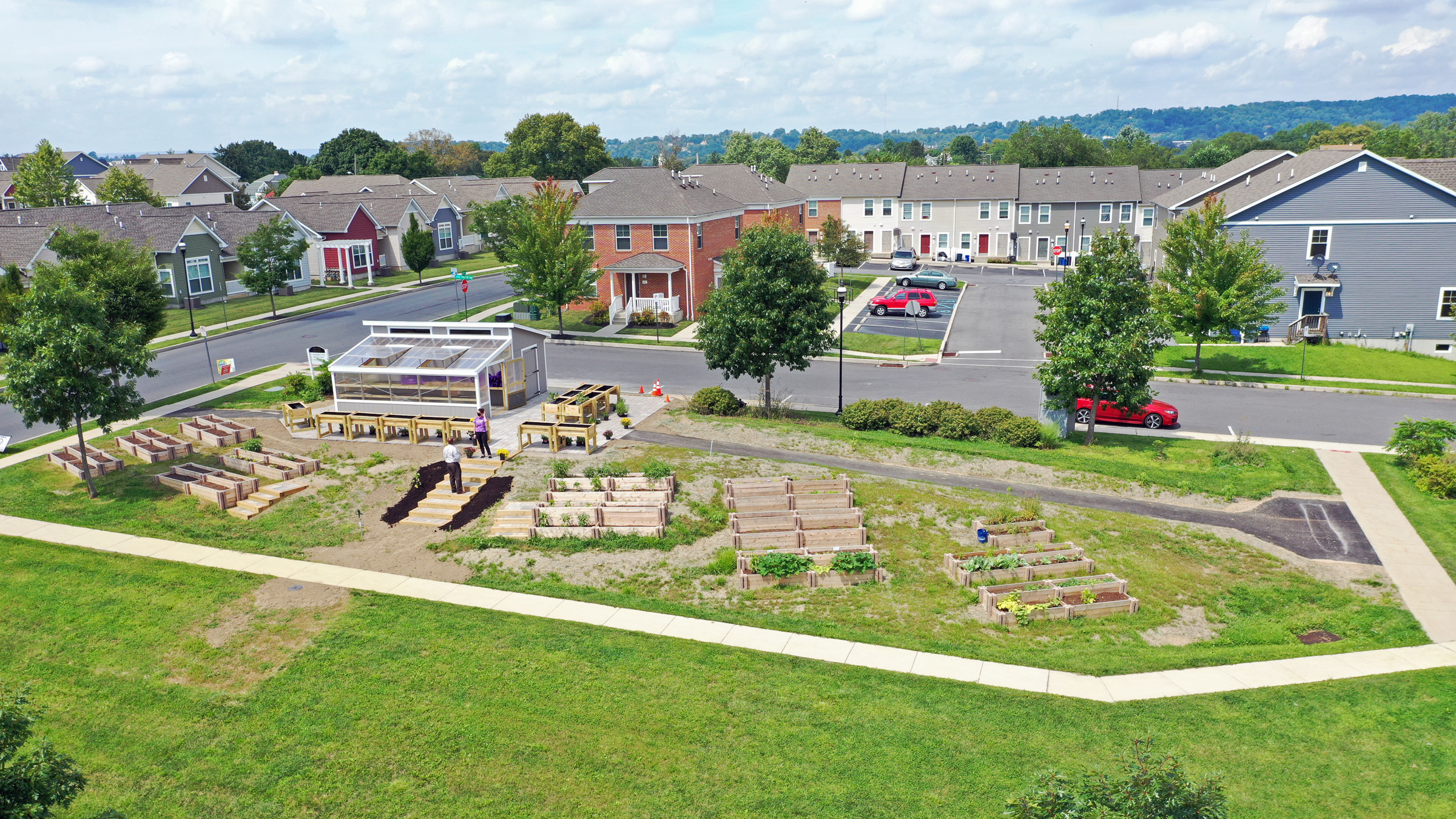 Over 167 various organizations and or projects have been recorded for the Kiwanis Club of Easton in the past 100+ years. It is estimated that the following have received from Easton Kiwanis over $1,250,000 in grants and many other forms of donations and many hours of community service from members.
ARC of the LV, A Place for Us, AKTION Club, American Cancer Society, American Heart Association, American Red Cross, Boys & Girls Club of Easton, CIT, Canine Partners for Life, Children Helping Children, Children of Jamaica, Children's Home of Easton, Chris Pittman Fund, Circle K Convention, Communities in Schools, Community Crusade Against Drugs, Community Service Projects, Communities That Care, County Conservation, County of Northampton, Cy Fleck Fund, DARE, Delaware/Lehigh Heritage Corridor, Easter Seals, Easton Area Neighborhood Centers, Easton Emergency Squad-new ambulance, Easton Fire Dept–funds to purchase special digital camera & equipment, Easton High School Drama dept, Easton H. S. FLBA, Easton H.S. PTSA, Easton High School post-prom party, Easton H.S. Peer Assistance, Easton High School Lacrosse Club, Easton Hospital, Easton K-Kids, Easton Peace Candle, Easton Police Athletic League, Easton Police Officer-of-the-year award, Easton Public Library, Easton Senior Legion Baseball, Easton Weed & Seed, Eldorado PA Miracle League Ballfield, Family Conextion – Children's Hygiene, Family YMCA, Firth Candle CID, Firth Youth  Center, Food Drive, Friends of the Blind, Friends of Heritage Day, Fund to Benefit Children and Youth, Greater Valley Girl Scouts, Head Start, Kiwanis International Foundation worldwide to conquer I.D.D, Kiwanis Foundation of Easton, Kiwanis International Foundation, Kiwanis Sponsored Youth, League of Women Voters, Lehigh Valley Crimestoppers, LV HOSPICE, Meals on Wheels, Miller Blood Center, Minsi Trail Boy Scouts, Muscular Dystrophy, Newspapers in Education-cosponsor essay contest, Northampton Cty Historical & Genealogical Society, PA Kiwanis District, PA Juvenile Officers, PA State Police Troop M-summer Kamp Kadet, PA Water Rescue, PAL, Palmer Moravian Church-electrify Tanzania church, Paxinosa Elementary library books, Personalized books to 1st graders at EASD, ProJeCt of Easton, Rajah Temple Hospital Trans. Fund, Ronald McDonald House, St. Anthony Youth Center, Safe Night, Salvation Army, School of Natural Learning, Shiloh Baptist Church, South Jersey Cancer Fund, Sollman Children's Trust, South Side Pride Day, Sp Olympics, Spring garden Children's School, State Theatre student high school Freddy Project-provide funds, Third Street Alliance, Troop M Camp Cadet, Two Rivers Health & Wellness Foundation, Valley Blazers, Valley Youth House, Visiting Nurse Assoc., WRRS Radprin, Whitehall Fire Company; Assist in purchase of Hugh Moore Canal boat-twice, Help repair roof at the State Theatre, Easton Children's Home, Third St Alliance, Boys & Girls Club of Easton, Safe Harbor men's shelter, Minsi Trails BSA, Miller Blood Center donations, Mentoring to students, Meals-on-wheels, Priority One book drop and distribution, Salvation Army Christmas bell ringing, Assist at Bit-By-Bit monthly with Aktion Club, Spaghetti Dinner fundraiser for the YMCA, Adopt-A-Highway cleanup-over 21 years, Assist at Ronald McDonald Camp yearly, Reading to children, Hospital transport for patients, Annual Rose Sale for PA Kiwanis Foundation and club fund-raising, Annual Super Raffle fund raiser, Baseball tournament sponsor, Bit-By-Bit with Aktion Club & Children's Home, Adopt-A-Class at Easton School District, Derriere in the Delaware-fund raiser, Easton Middle School math program, Easton Police deceased officer provide funds for children's scholarship , Family YMCA building addition, FBLA Easton High School, George Taylor house alarm system, Golf Tournament Fund Raiser, Help Neighborhood – Nadine Loane, IU 20 Kids Holiday/Christmas party, IU20 Basket Bingo, IU20 kids to Phila basketball game, Key Leader, Kids Casting Contest-yearly in conjunction with Easton Shad Fishing Festival, Kiwanis World Link, Lafayette College Scholarship-ongoing for many years via gift to Foundation, LISTEN MAGAZINE provided to Easton Middle school for students, Monthly expenditure by our Youth Committee distributed to various agencies, Palmer Kiwanis Golf Tournament, Pre K Counts various expenditures for start-up, ProJect Child donation, Provide funds for local daycare for Halloween Party, Provide funds to purchase food for one family to have a Thanksgiving "feast", Provide some funds for former member's needs with "assistance dog", Provide some funds for help in starting new Kiwanis Clubs, Reading is Fundamental-Head Start provide funds , Red Cross Training for Salvation Army, Salvation Army Music program, Salvation Army sponsor youth for summer camp, Salvation Army Thanksgiving Fund, Scholarship for one or two students at C.I.T., Soap Box Derby on Father's Day in Easton-sponsor 2 cars-buy one car, Spaghetti Dinner Fund Raiser with Family YMCA-multiple years, Special Olympics helmets, Special Olympics–many sports event throughout the year, Special Olympics–provide funds for uniforms , Special Olympics Bowling Shirts, Sponsor Valley Blazers youth track & field event, Spring Garden Day School/Nursery-proved funds for them to buy supplies+books, Take kids to movies and a pizza party, Teen Night for Boys & Girls Club, Weed & Seed program at local in-town park provide funds for picnic tables & benches